Book your Manoranjan Ads with Amar Ujala Instantly Online
" Manoranjan", meaning entertainment and a pull out by Amar Ujala, provides an insight into all the latest celebrity and entertainment as well as fashion updates! A great platform to advertise your new showrooms and boutiques as well as other trendy products
PUBLISHING DAYS
Booking Deadline
Minimum Size
PUBLISHING DAYS
Minimum Size
Where is Manoranjan published from ?
LOCATIONS
---
Select a Discount Package

DISCOUNT PACKAGES

---

Amar Ujala (All Editions)

Rs.

4155 / sqcm
Book Now

Amar Ujala (All Uttar Pradesh)

Rs.

3787 / sqcm
Book Now

Amar Ujala (All Uttarkhand)

Rs.

1039 / sqcm
Book Now

Amar Ujala (All Punjab)

Rs.

453 / sqcm
Book Now

Amar Ujala (All Himachal Pradesh)

Rs.

337 / sqcm
Book Now

Amar Ujala (All Haryana)

Rs.

207 / sqcm
Book Now
Innovation Option
ADVERTISING INNOVATIONS
---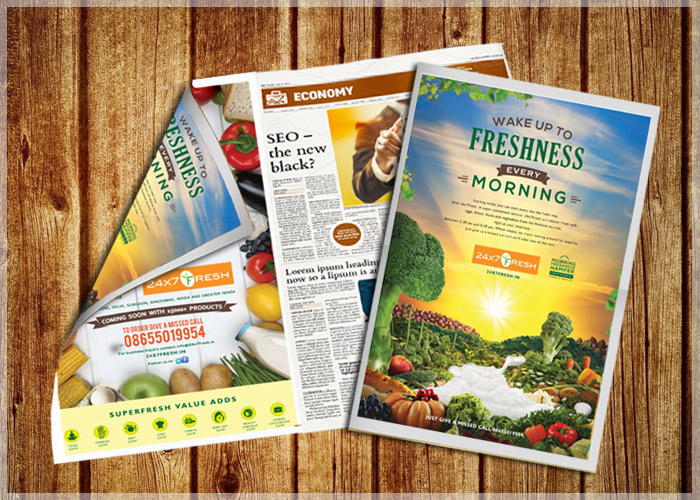 Jacket Full Page Ad
33cm x 52cm
These display ads are placed on the Front Page of the newspaper on both the sides. They are available in the dimensions of 33 cm X 48cm
Half jackets Ad
16.5cm x 52cm
These display ads appear on half of the front page in a newspaper. Half-Jacket ads are available in 16.5 cm X 52 cm dimensions.
Book Mark Ad
3cm x 52cm
Bookmark ads peek out of the newspapers just like a normal bookmark marking the page where your ad has appeared. You can choose to book a full/half-page ad in this case.
Pointers Ad
4cm x 5 cm
Pointer ad appears on the left-most column of the main page. This small ad appears in 4 cm X 5 cm size.
SkyBus Ad
33cm X 5cm
These ads materialize under the masthead of the newspaper in the main page and are 33 cm in length and 5cm in width
Advertorial Ad
Any Size
Publish an article about your product / service - to be placed alongside regular editorial content. You get to choose your headline, text & visuals.
Why advertise in Manoranjan ?
WHY ADVERTISE IN
Amar Ujala Manoranjan

?
---
Amar Ujala is one of the most popular newspapers of India. It has been growing as a popular publication steadily among the Indian readers. Even circulation wise Amar Ujala has been gaining momentum. releaseMyAd being an INS (Indian Newspaper Society) accredited organisation is authorized to enable all advertisers to book Manoranjan Display advertisements in Amar Ujala. In Amar Ujala, Manoranjan Display Ads are measured in terms of the ad size calculated in per sq. cm unit. All Manoranjan display ads need to be booked 3 days before the preferred publishing date to successfully get it published in Amar Ujala.
While placing a Manoranjan Display Ad in Amar Ujala newspaper, please remember that these ads are expensive ads and are charged based on their size in per sq. cm unit.
You can place your Manoranjan display ad in Amar Ujala newspaper in any of the editions or locations covered by Amar Ujala online via releaseMyAd.
You must also take care that your ad is booked 3 days in advance to ensure a timely release of your Display Advert.