Amar Ujala Agra Advertisement Booking Online at Lowest Rates:
Select Your Ad Format :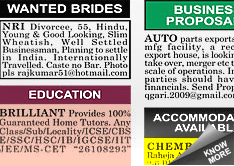 Economical, Simple Text. Charges per line/ word. Can be enhanced with Tick, Border & Bold
More Visible & Expensive. Include image, colour,font variations. Rate is charged on per sq.cm basis.
It's very easy to book classified text ad online through releaseMyAd. releaseMyAd helps advertisers to book classified text ad in just three steps. To book the classified text ad in Amar Ujala follow the steps given below. · Select ...
Related to:
Amar Ujala
Post date:
16/02/2017 - 07:30AM
Please note in case of obituary ads you need to provide proper documents to the publication houses. The documents can be a death certificate or a doctor's note. So while booking Amar Ujala obituary classified ad, keep the document ready as you have to upload it for the verification purpose....
You can take the help of our Online Ad Booking Tutorial to get help with the booking your Name Change Announcement. If you want to know about the ad rates and discount packages you need to visit Amar Ujala Announcement Ad Rates Page. On this page all the details related to ad rates, packages, dis...
Amar Ujala Agra Classified booking Center
ReleaseMyAd Media Pvt.Ltd
Strand Rd , Civil Lines,, Agra, Uttar Pradesh,282003
Book an Ad
Additional Information
About releaseMyAd
Book an Ad
Agra stands testimony to Mughal Emperor Shah Jahan's love for his wife in the form of the Taj Mahal. It draws tourists from India and beyond its borders in large numbers. Hospitality industry and small scale industries like carpet making thrive in Agra. Low-priced classified ads in top newspapers of Agra are a popular advertising technique for SMB advertisers.
releaseMyAd is the favourite ad agency of Agra. We have simplified the classified ads booking process with our online ad booking portal. Agra advertisers now only need to go through 3 online steps to book their classifieds:
1. Select Ad Type and Ad Category
Select Ad Type (text classifieds/ display classifieds) to begin ad booking with us. Then, choose ad category (property, recruitments, business, etc.)
2. Compose Ad
At this stage, you will have to phrase the ad. Go through our ad samples in case any doubt rises. You can also call us for help. Add enhancements for display classifieds at this stage.
3. Select Dates & Make Payments
Complete ad booking procedure with ad release date selection and payments. We have multiple online and offline payment options.
Additional Information
Why choose releaseMyAd for booking classifieds in Agra?
Agra is the most famous tourist destination of India. The presence of the Taj Mahal draws foreigners and their foreign currencies to the Agra. For businesses in Agra, advertisements are the only way to outlast and counter competition. A cheap and sure way to reach your target customers is through classified ads in top newspapers of Agra. releaseMyAd is a maven ad agency in Agra which helps local advertisers to book classified ads in top newspapers of the Agra. When you advertise with releaseMyAd you earn a lot of benefits. Some are listed below:
• releaseMyAd ensures to make the classified ad booking process short and simple for you. You can now book ads with a 3 step online process whenever you want.
• Now, avoid paying numerous agents and middlemen for ad booking.
• You can make payments to releaseMyAd via our many online and offline payment options.
Book Amar Ujala Newspaper Ads in Agra Now!
About releaseMyAd
releaseMyAd is India's simplest classified booking service! Through our service you can book classified Ads for all leading Indian Newspapers – at no extra charges!
We are fully accredited by the Indian Newspaper Society (I.N.S.) - the primary governing body for all media publications. Furthermore, we have exclusive tie-ups with newspapers that enable you to release ads at the same cost as the newspaper in addition to enjoying special discounts!
You can book your Newspaper Ad instantly for any category such as Matrimonial, Property, Recruitment, Automobile, Travel etc. We accept both online and offline payments for advertisement bookings. Online payment options include Credit/Debit Cards & Net Banking (All Indian Banks), and offline options include Demand Drafts, Cheques and cash payments.
Contact us at:
questions@releasemyad.com
+91 33 4031 1111 (24 hours, Monday-Sunday, Standard STD/Local charges apply)